Welcome to Octave Online.
Octave Online is the free GNU Octave editor and prompt in your browser. Octave Online is powered by the open-source GNU Octave project, whose syntax is mostly compatible with MATLAB.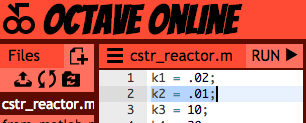 Drop Files Here to Upload
Octave Online Interactive Editor
The currently selected file can't be edited online. You can still use the toolbar above to rename, download, and delete the file.
Tips and Tricks
The files you make on Octave Online will be saved for the next time you visit.
In the editor, you can use most of these keyboard shortcuts. You can also use these special keyboard shortcuts:
Ctrl + Space

Show the auto-completion menu

Cmd/Ctrl + S

Save the file

Cmd/Ctrl/Win + R

Run the file

Cmd/Ctrl/Win + E

Set focus to the prompt
Want an interactive session?
This is a live Octave command prompt. Type expressions here and press enter, like sin(pi/3) or help fplot
Tip: Sign in to run script files.
How do you want to sign in?
---
Signed in before but need to change your email address? Click "Feedback" and create a ticket. We will change it for you.
Octave Online Sync
We are testing a new feature that enables you to synchronize your Octave Online script files with your local machine. This lets you use Octave or MATLAB when you're on your own computer and Octave Online when you're on the road.
We use Git, a popular version control system, to handle the syncing process, so you can also see the revision history on your script files. Watch this screencast for an example of how to use Octave Online Sync.
URL http://octave-online.net/sync.git
Username
Password
Please send feedback on this feature to our support team using the "Feedback" link.